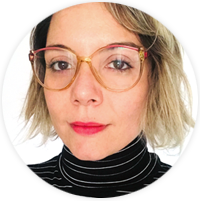 Visual Designer / Creative Manager
I'm a visual designer and creative manager, with experience in digital/motion/print design. I have collaborated and held positions in various work sectors, such as: Digital Education, Property Market, E-commerce, Online Fashion and Desktop Publishing.
My work consists of following and maintaining brand values, but thrives towards creativity and innovation. I am a natural problem solver and instigated by producing qualitative and meaningful design, where both client and end user are satisfied. 
Born in Rio de Janeiro and raised in Europe and in the USA. Multilingual, speaking native English and Portuguese, and fluent Spanish and Italian. Based in Barcelona and looking for new challenging opportunities
.
Art

Direction / Branding / Graphic Design / 
UI & UX / Social Media / E-Commerce / Digital Production / Project Management
Check out my videos/motion graphics on Vimeo.
"I worked with Flavia for a little over a year and I highly recommend her. She has impeccable work ethic (a very important characteristic because the job was remote) and the quality of her work is wonderful. She takes the time to really understand the clients point of view and what their goals are. She also proactively seeks feedback to ensure her work is hitting the mark. She's a gem to work with!" 
- 

Deborah (Gibson) Mayen - Marketing and Communications Manager - Latin America - at Encyclopaedia Britannica
"Flavia has a really wide base of international experience across design, web-design, motion-graphics and development roles - plus she's bilingual and a great team worker"
- Sara Wright - Lead Product Designer
"Flavia is an enthusiastic designer with a great eye for detail. Her design skills go from concept to production including a wide range of design programs but specially video production. She not only follows a brief but is always also keen to improve it, even creating guidelines if these don't exist! A great asset to any design team!"
- Maria Blasi - Founder / Operations Director - at The Two Marias